Breast Reduction Eton
Consultations offered at our four convenient locations in 10 Harley Street, London, Princess Margaret Hospital, Windsor, Spire Thames Valley, Gerrards Cross and Kings' Oak Hospital, Enfield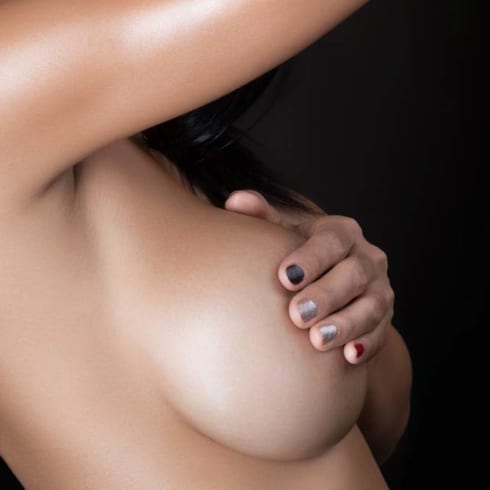 Achieve smaller breasts and beautiful results with the help of breast reduction near Eton. A straightforward surgical procedure can leave you with the natural-looking appearance you desire. A reduction mammoplasty is one of the specialist procedures available at the Refresh by Fazel clinic.
Maisam Fazel is an award-winning onco plastic and reconstructive surgeon, and the expert medical professional behind the Refresh group of clinics. With experience that spans more than 20 years, Doctor Fazel is known for outstanding results in the cosmetic breast surgery field.
So if you're looking for a first-class procedure to reduce the size of overly large breasts, Refresh is here to help. Through a breast reduction to remove excess fat, skin and tissue, large or disproportionate breasts can become more comfortable and more aesthetically pleasing.
You can lift the weight physically and psychologically with exceptional surgery from Doctor Fazel in Eton. Our nearest clinic to Eton is located at the Princess Margaret Hospital in Windsor.
Book a consultation to get started with us today. You can call the clinic on 0330 660 0979, text 07397 873 258
We look forward to helping you achieve your desired new look. You can read more about the breast reduction procedure and view the before and after gallery from patients who have achieved wonderful results with Doctor Fazel at Refresh.
The Refresh clinics are in operation in London's prestigious Harley Street and across the South East, including Refresh Slough and Refresh Windsor.
Before and After Photos
Considerations
Patients with large or disproportionate breasts can sometimes feel restricted by their bodies. Not only can the weight of large breasts cause discomfort or pain, but they can also inhibit the ability to perform physical activity or find well-fitting clothes.
Large breasts may be genetic, or could develop as a result of bodily changes either due to fluctuating weight or childbirth and breastfeeding. A reduction mammoplasty can relieve some of these symptoms physically and emotionally, leaving the patient with lighter and smaller breasts.
And what's more, smaller breasts will also benefit from being lifted, which in turn can present a more youthful looking appearance. With a breast reduction at Refresh, smaller breasts can be lifted into position to give a more aesthetically pleasing look, shape and feel.
Procedure
Any surgical procedure to alter the appearance is a big decision and great care and consideration should be taken before going ahead with any kind of cosmetic surgery. If you are experiencing distress, pain or discomfort over the size of your breasts, choosing an approved and expert medical procedure can alleviate symptoms and reduce mental and physical discomfort.
Surgery to reduce the size of the breasts with Doctor Fazel takes as little as 2.5 hours and can be completed within one visit. Patients are not usually required to stay in hospital overnight, and can return to some physical activities within 7 days. Most patients return to work within 10 – 14 days following their breast reduction procedure.
Expectations
First and foremost Doctor Fazel is renowned for producing fantastic and beautiful results from cosmetic surgery. You will be in expert hands and part of our unrivalled patient aftercare programme. Refresh prides itself on putting patient safety and satisfaction first, and only when Doctor Fazel is confident that breast reduction surgery can provide the results you're looking for, can surgery take place.
Doctor Fazel is a pioneer in the breast surgery field, and often takes on referrals for complex procedures. As well as breast reduction, he is highly sought after for his breast augmentation procedure among many other cosmetic breast surgeries.
All patients are required to have a no obligation consultation prior to any procedure. This is a chance for you to meet with your surgeon, learn more about the treatment and explore all available options for achieving your desired look.
Ideal Candidate
Breast reduction is suitable for patients who wish to have smaller breasts.The main purposes of reducing the size of large breasts are:
Achieve smaller, more proportionate breasts
Reduce pain, such as backache or strain around the neck
Relieve skin conditions
Find better fitting clothes
Live a more fulfilled lifestyle with the ability to perform physical exercise and other hobbies
Improve body confidence and self-esteem
Patients who require a small reduction and who have a good skin tone can benefit from a scarless breast reduction, also referred to as breast VASER liposuction. This is a highly effective technique for patients who are not seeking a significant reduction in breast size. The liposuction procedure helps to reduce volume in the breast and can result in skin tightening.
Why Choose Us
Doctor Fazel has helped many patients achieve smaller, more manageable breasts with pioneering cosmetic breast treatment at Refresh. He has been named the Best National Onco Plastic Breast & Cosmetic Surgery Specialist in the Private Healthcare Awards, and consistently receives 5 star reviews across numerous independent review websites.
After completing his studies in medicine at Cambridge University, Doctor Fazel held several cosmetic surgery fellowships in the UK and USA. He has trained internationally and worked in leading hospitals in London, Paris and Milan, gaining considerable experience working alongside some of the world's leading plastic surgeons.
His unique background in both plastic and breast surgery sets him apart from other surgeons. He enjoys developing the skills of junior surgeons and takes great pride and care in his work.
Contact
Contact the clinic to book a no-obligation consultation where you can discuss your options for breast reduction, at one of our clinics nearby.
Please get in touch using the contact form on our website, or alternatively:
CALL US
TEXT US
ONLINE FORM
How to reach us
Refresh Clinic Windsor
Princess Margaret Hospital
Osborne Road
Windsor
SL4 3SJ