Breast Lift With Implants Farnborough
Consultations offered at our four convenient locations in 10 Harley Street, London, Princess Margaret Hospital, Windsor, Spire Thames Valley, Gerrards Cross and Kings' Oak Hospital, Enfield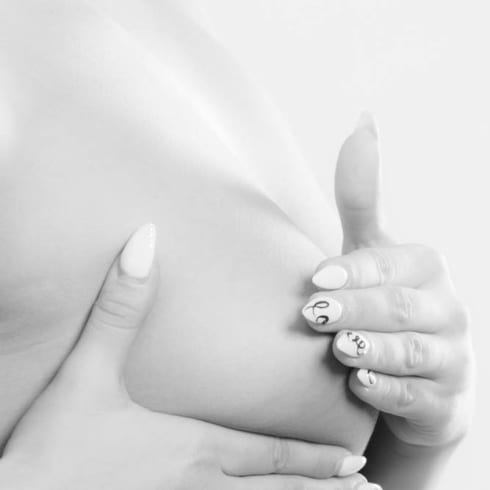 A breast lift with implants at Refresh by Fazel near Farnborough is one of the most popular treatments to gain more volume and a lifted look. Harley Street surgeon Doctor Maisam Fazel, is a specialist cosmetic surgeon who is able to perform this complex treatment. This type of breast enlargement is a combined approach, It helps with repositioning drooping breasts, and correcting asymmetry.
The breast uplift, also known as a mastopexy, is performed alongside a breast enlargement. This is a commonly requested procedure but due to its complex nature, should only be carried out by an experienced cosmetic surgeon. With over 20 years' experience in the cosmetic surgery field, Doctor Fazel is skilful in producing the most natural-looking and better proportioned breasts.
Doctor Fazel is based in London's prestigious Harley Street, with clinics in operation across the South East, including in Windsor, near Farnborough.
Book a consultation to get started with us today. You can call the clinic on 0330 660 0979, text 07397 873 258
Doctor Fazel is an onco plastic and reconstructive surgeon who specialises in breast augmentation, breast reduction and breast enlargement.
Before and After Photos
Expectations
There are many reasons why patients choose to combine a breast uplift with breast enlargement. As part of the natural ageing process, breasts can become prone to sagging and some patients find themselves with asymmetrical breasts for one reason or another. Sometimes loose or excess skin causes breasts to lose their shape, as a result of weight loss or after childbirth and breastfeeding.
Breast enlargement surgery combined with an uplift is a popular procedure to raise the breast tissue into a more aesthetically-pleasing shape, with added volume gained from the insertion of a breast implant.
This procedure is effective for correcting sagging in the breasts and loss of volume in the chest. It is an approved surgical procedure to achieve firmer and fuller breasts.
While some patients look to breast enlargement through implants alone, it's more effective to combine the use of implants with a breast uplift, to achieve more natural-looking results. And when we look good, we feel good. So it's no surprise that this procedure can have a profound impact on overall wellbeing, as well as on physical appearance.
Cost
Breast enlargement surgery combined with an uplift starts at £7400 with Refresh by Fazel. Treatment is tailored to each patient, and takes into account the scope of surgery required for the patient's individual circumstances.
First we invite you to an initial consultation, where you can discuss your reasons for wanting to undergo surgery and expectations for results with Doctor Fazel. We will provide you with detailed information about breast augmentation and breast enlargement, which you can read and digest in your own time before deciding if cosmetic surgery is right for you.
Procedure
Once you have discussed your ideal look for fuller and lifted breasts through surgery, your treatment plan can get underway.
The breast lift (mastopexy) combined with breast implants (breast enlargement) is a way to restore lost volume in the chest or to rectify empty breasts, which can occur for a variety of reasons including ageing, weight fluctuations and childbirth.
Our range of breast surgery procedures can help with:
Improving sagging and lift drooping breasts
Tightening loose skin
Correcting asymmetry in the breasts
Improving downward or inward pointing nipples
Improving the size and shape of the areolae
Increasing volume in an empty upper breast pocket
View the before and after photos of breast lift with implants patients at Refresh by Fazel.
Considerations
The procedure is relatively quick and straightforward, taking just 2.5 hours on average to complete. Patients are not required to stay in the hospital overnight following their procedure, but it's advisable to take some downtime from usual daily activities to aid better and faster recovery.
The procedure takes place under general anaesthetic, during which time the breasts will be reshaped through the lifting of the breast, placing it higher within the chest wall. Excess skin and unnecessary breast tissue will be removed. The remaining breast tissue is tightened and supported by the breast implants, to reinforce the breast uplift.
Should the patient choose, the nipple and areola can also be repositioned to enhance the breast uplift. Doctor Fazel is well placed to advise on the best type of breast enlargement procedure for your body shape. The most popular choices being a donut lift, lollipop lift or anchor lift.
Next steps
Please contact the clinic on 0330 660 0979 or use the contact form to request a call back from a member of our nursing team, to book an initial consultation.
The initial consultation is a no-obligation first meeting, so you can find out more information from our surgical team about cosmetic breast procedures with Refresh by Fazel.
With Refresh by Fazel, patients can rest assured they are in safe hands. Read some of our excellent feedback and find out how you could benefit from our first-class patient aftercare programme.
Refresh Clinic Windsor
Princess Margaret Hospital
Osborne Road
Windsor
SL4 3SJ